Description
Capadula is an ancient and popular Natural aphrodisiac with many physical benefits.
What is Capadula? Capadula is a plant thats found in the South America that has been used by men in the area to prevent and cure Impotence, Premature-Ejaculation and to raise sexual Libido.. You get the same benefits from Capadula as you do from Viagra without any negative side effects. 
Preparation (How to Use): Boiling the root and drinking on a regular basis will surly cure your dysfunction without the side effects. 1\4 cup of bark to 1 liter of water. Bring to a boil and drink as tea. You can add water and reboil the bark 5-7 times or more.
---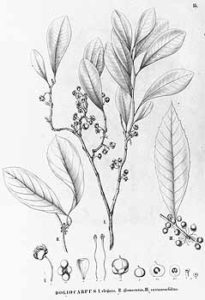 SCIENTIFIC NAME: 
– Doliocarpus dentatus (Aublet) Standley
– Tetracera spp.
– Pinzona sp.

COMMON NAMES: Capadula, Kabuduli, Kapadula, Sah-kah-ti-to, Liane Rouge.
HABITAT:
PATTERN: Dolicarpus dentatus flowers throughout the dry season, from December to April, but parhttps://italisvital.info/capadulla/?preview=trueticularly in February. In central Panama the fruits mature from March to May (possibly later), chiefly in April. (Flora of Barro)
PARTS USED: Whole plant – leaves, stem, root, bark, sap
USES: Whole plant: Decoction for venereal disease. Mixed, for a tonic, with Philodendron fragrantissimum, Strychnos sp., Smilax schomburgkiana, Clusia grandiflora and Bauhinia scala-simiae.
Stem and Bark: Used to make an aphrodisiac tea, or used to make an infusion when chopped and soaked in wine.
Leaf: Used to disinfect the umbilical cord of newborn babies in Guyana.
Sap of the stem: Used to relieve stricture or as a thirst quencher. Sap is also used as an abortive, for coughs and colds, and to treat snakebites.
http://healthylifeusa.blogspot.com/2014/12/erectile-dysfunction-viagra-or-capadula.html
Aphrodisiac herbs/barks used to heighten sexual Libido/Appetite/Health..
Capadulla bark (Doliocarpus major, Doliocarpus dentatus)
Cockshun (Smilax. Schomburgkiana)
Date palm (Phoenix dactylifera)
Devil-doer (Strychnos)
Granny backbone
We also Deliver in Guyana at Discounted prices – Call +592.648.5537 to place an Order.
$2500 GYD for 5lbs of Bark. $500 Delivery within Georgetown area.