Description
Capadula is an ancient and popular Natural aphrodisiac with many physical benefits.
What is Capadula? Capadula is a plant thats found in South America that has been used by men in the area to prevent and cure Impotence, Premature-Ejaculation and to raise sexual Libido.. You get the same benefits from Capadula as you do from Viagra without any negative side effects. 
Preparation (How to Use): Boiling the root and drinking on a regular basis will surly cure your dysfunction without the side effects. 14 cup of bark to 1 liter of water. Bring to a boil and drink as tea. You can add water and re-boil the bark 5-7 times or more until it gives out no more Color. It starts Dark Red and goes to light pink when you keep boiling it. After a few times it gets soft and you can use knife to strip it up and reveal the insides so keep extracting all the beneficial juices from the bark.
It is also a natural pain killer. Especially Back Pain.
It is also a natural Stimulant and gives energy and so no need to drink, Coffee or Black tea for that Caffeine rush.
You can drink Capadulla alone or combined with the long list of other Medicinal Vines & Barks.
Capadulla is really a Vine although we call it bark.
Locust Bark is the actual Bark of the Locust (Stinking Toe) Tree.
Medicinal Vines List that can be mixed with Capadulla: Locust Bark, Cooper Bark, Panty Borer, Devil Doer, Granny BackBone, Monkey Ladder, Sarsaparilla Root, CockShun, and more.
We usually add Cloves, Cinnamon (Spice Sticks) along with Bay Leaves to give it a good taste.
---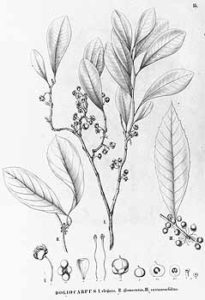 SCIENTIFIC NAME: 
– Doliocarpus dentatus (Aublet) Standley
– Tetracera spp.
– Pinzona sp.

COMMON NAMES: Capadula, Kabuduli, Kapadula, Sah-kah-ti-to, Liane Rouge.
HABITAT:
PATTERN: Dolicarpus dentatus flowers throughout the dry season, from December to April, but parhttps://italisvital.info/capadulla/?preview=trueticularly in February. In central Panama the fruits mature from March to May (possibly later), chiefly in April. (Flora of Barro)
PARTS USED: Whole plant – leaves, stem, root, bark, sap
USES: Whole plant: Decoction for venereal disease. Mixed, for a tonic, with Philodendron fragrantissimum, Strychnos sp., Smilax schomburgkiana, Clusia grandiflora and Bauhinia scala-simiae.
Stem and Bark: Used to make an aphrodisiac tea, or used to make an infusion when chopped and soaked in wine.
Leaf: Used to disinfect the umbilical cord of newborn babies in Guyana.
Sap of the stem: Used to relieve stricture or as a thirst quencher. Sap is also used as an abortive, for coughs and colds, and to treat snakebites.
http://healthylifeusa.blogspot.com/2014/12/erectile-dysfunction-viagra-or-capadula.html
Aphrodisiac herbs/barks used to heighten sexual Libido/Appetite/Health..
Capadulla bark (Doliocarpus major, Doliocarpus dentatus)
Cockshun (Smilax. Schomburgkiana)
Date palm (Phoenix dactylifera)
Devil-doer (Strychnos)
Granny backbone
We also Deliver in Guyana at Discounted prices – Call +592.648.5537 to place an Order.
$2500 GYD for 5lbs of Bark. $500 Delivery within Georgetown area.